Suspended Temporary Ceilings

US Shrink Wrap designs and installs interior protection for dust and debris containments. Our nationwide installation service enables major re-roofing projects to continue without hindering the facilities operations.

IP Temporary Interior Protection Systems



Interior protection walls and ceilings are an intricate part of any retrofit and re-roofing project. US Shrink Wrap designs and installs interior protection systems for any project. Our dust containment systems separate your production areas from your construction areas. This reduces the exposure to your production workers from construction site hazards. The separation also helps loss prevention from construction employees on-site. US Shrink Wrap's frameless wall systems create a strong dust barrier that is also aesthetically pleasing. Don't trust your interior protection to tarps that don't trap in the dust. Our suspended ceilings create a dust proof environment that works. For interior protection solutions Call us at 877-812-1242.

Interior Protection and Suspended Ceilings Nationwide Services
US Shrink Wrap interior protection systems, suspended ceilings, dust and debris control systems, interior protection contractor, interior frameless walls.

Little John Coliseum at Clemson University Interior Protection Dust and Debris Containment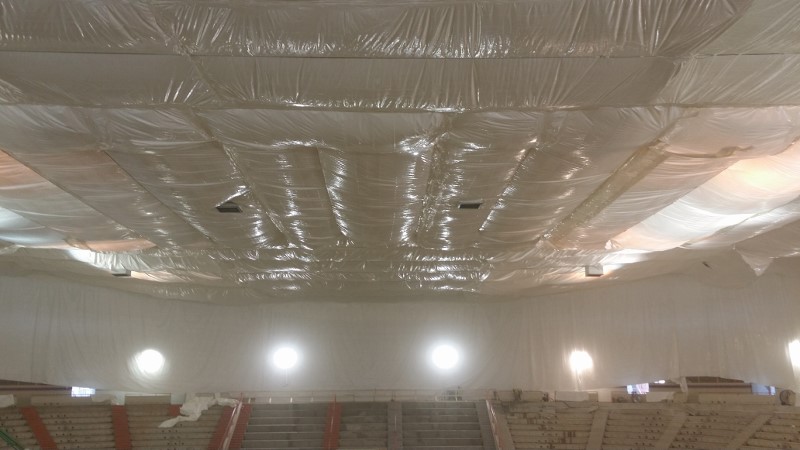 Frameless Wall Systems
Frameless shrink wrap walls can be built to any height and length. US Shrink Wrap's frameless wall systems can split your facility in half or built to re-route foot traffic and product traffic to accommodate your construction needs. Our wall system creates a drum tight wall able to take up to 450 lbs per square foot. Temporary wall systems separate the production areas from the construction areas.
Interior Protection Wall Systems, Temporary Frameless Wall Systems, Shrink Wrap Walls, Interior Protection, Retro-Fit Temporary Containment Systems, Dust And Debris Control.